Academy Triathlon Competition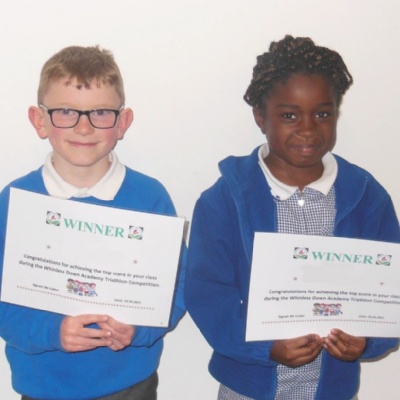 Whinless Down Academy Triathlon Competition.
During the final week of Spring term, each child across the academy took part in the Whinless Down Academy Triathlon Competition. Due to current circumstances, this was the first chance the children have had to compete in an intra academy event since October, and they were all fiercely competitive in representing Priory Fields.
All children took part in three events;
Shuttle Run – Running continuously for 2 minutes, going from one side of the hall to the other (10 metres) as many times as possible.
Target Throw – Throwing bean bags, seeing how many times they could land the bags in the target zone in two minutes.
Speed bounce/Bunny Hops – Jumping two footed over a bench as many times as possible in two minutes.
Not only did the children compete with a great attitude, they encouraged classmates and helped Mr Cotter keep and record scores.
After adding all the scores up from all three schools, Priory Fields were announced Whinless Down Academy Triathlon Champions, with our friends at St Martins and Vale View finishing 2nd and 3rd respectively. Well done to all children across the academy, Mr Cotter, Miss Critcher and all your adults at school are extremely proud!